Comedian gives press conference and reveals she's received death threats following severed head photoshoot – but vows not to stop criticizing Trump
Kathy Griffin says she has received death threats following the controversy over her holding a mock-up of Donald Trump's severed head in a photoshoot – and believes the president and his family want to destroy her career.
At a press conference in Los Angeles, Griffin said that despite the alleged threats she would not stop making jokes at the president's expense. She called the White House's response to the stunt unprecedented.
"What's happening to me has never happened," Griffin said. "A sitting president of the United States and his grown children and the first lady are personally, I feel, trying to ruin my life forever."
Griffin apologized for the stunt on Tuesday. On Friday morning she stood beside civil rights attorney Lisa Bloom and criminal attorney Dmitry Gorin, who said that the images of Griffin with the severed head had been misrepresented.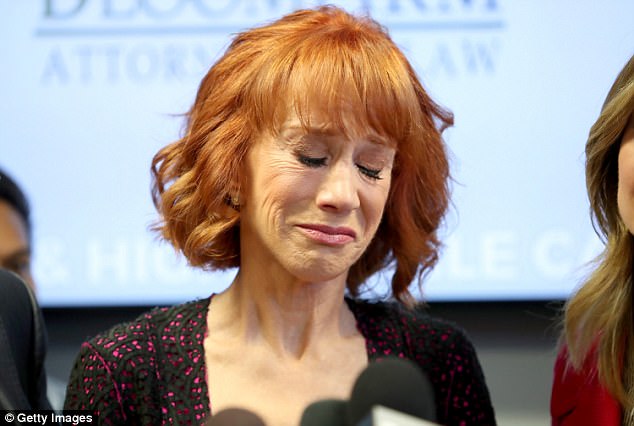 Griffin fought back tears and said: "I don't think I will have a career after this. I'm going to be honest – [Trump] broke me."
On Twitter earlier this week, Trump said the image of Griffin was "sick", and that it had traumatized his family, especially Barron, his 11-year-old son. Trump's oldest son, Donald Jr, called it "disgusting" and urged Griffin to be dropped by her employers.Griffin was fired from her role as co-host of CNN's New Year's Eve coverage this week.
Bloom, who represented Fox News contributor Wendy Walsh in her sexual harassment case against Bill O'Reilly, said that Griffin "has been vilified, getting death threats, fired from multiple jobs and had multiple events canceled."
"Kathy never imagined it could be misinterpreted as a threat of violence against Trump," Bloom said. "That was never what she intended." Griffin's attorney went on to explain that the photo, shot by Tyler Shields, was meant to be a parody of Trump's now infamous attack on Megyn Kelly in 2015.
Griffin then addressed reporters herself. "I'm not afraid of Donald Trump," she said. "He's a bully. I've dealt with older white guys trying to keep me down my whole life, my whole career. I am a woman in a very male-dominated field."
That apology absolutely stands. I feel horrible. I make mistakes. I am an out-there comedian," she said.
But Griffin said she believes Trump is now trying to ruin her career. "You guys know him," she said. "He's never going to stop. And if you don't stand up, you get run over. The death threats I am getting are constant and they are detailed. Today it's me. Tomorrow it could be you."
Gorin then addressed the apparent secret service investigation into the photoshoot, saying he expects it to be closed shortly and for Griffin to be cleared.
Fellow comedians have come to Griffin's defense, including Larry King, Jerry Seinfeld, and Jim Carrey. Carrey said that Griffin should have held up a "severed leg as well," and said that comedians have a responsibility to push boundaries.
"It is the job of a comedian to cross the line at all times, because that line is not real," he said. "We're the last line of defense. And really, the comedians are the last voice of truth in this whole thing."
Source: https://www.theguardian.com