MELANIA TRUMP, 48, recently met Queen Elizabeth II, 92, together with husband Donald Trump, 72. But what did the US First Lady think of the visit? She has opened up on her Instagram account to her followers.
Melania Trump is currently on a visit to the UK with husband Donald Trump, President of the US.
As part of the working visit, Melania, together with Donald, met Queen Elizabeth II earlier this week at Windsor Castle.
The pair arrived at the castle at 5:00pm to be greeted by the Queen and the Coldstream Guards.
They shook hands and posed for a picture with Britain's longest standing monarch.
Afterwards, they had tea with the Queen for an hour at the palace.
Melania mentioned the visit on her Instagram account, which has 1.8 million followers.
She said she "enjoyed" meeting the Queen and considered it an "honour".
"It was an honor [sic] to meet and have tea with Her Majesty Queen Elizabeth ll.
"@POTUS and I enjoyed the visit and her company very much!"
She also posted a series of photos of the trio outside Windsor Castle.
Melania also reposted a video posted originally by the White House chronicling the Trump's UK visit.
The video showed scenes of the pair arriving by helicopter at Chequers to meet the Prime Minister.
There was also a video of the pair walking side by side with the Queen.
The video was captioned: "Repost @whitehouse. See behind the scenes of @realDonaldTrump and @FLOTUS' trip to England, where they met with Her Majesty Queen Elizabeth II, Prime Minister Theresa May, and other U.K. leaders."
Earlier this week, former model Melania showed off her tiny waist alongside Donald as they arrived at Stansted airport.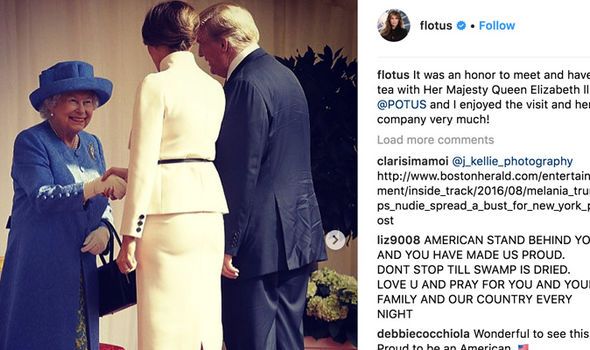 She clasped hands with Donald as she walked off the plane at Stansted Airport.
Melania, a former model, wore a tight pencil dress by Roland Mouret as she stepped off the plane.
The dress closely resembled a previous look of Meghan Markle's, and the taupe colourway is exclusive to SAKS Fifth Avenue.
The belted skintight dress looked very similar to what Meghan wore for her engagement in Chester with the Queen last month.
It had a orange skinny belt which highlighted Melania's tiny waist and hourglass figure. Melania matched the dress with a pair of cream Louboutin heels which added more height to her model figure.
Source: https://www.express.co.uk