MELANIA TRUMP, 48, was spotted on the White House Lawn with her husband Donald today. She wore an all white outfit which showed of her figure.
Melania Trump looked stunning today in an all white ensemble.
Smiling in the bright sun, the former-model's outfit clung to her curves.
The skin tight white jeans were skinny but and had a black button.
The First Lady tucked a chic white shirt into the waistband.
Showing off her fashion credentials, Melania turned up the sleeves of her shirt to flatter her figure.
However, the First Lady wasn't done there.
She perfectly co-ordinated her bag and shoes.
Melania wore python skin yellow sky-scraper heels.
Her bag was white with yellow handles and a black buckle.
Melania and President Trump were travelling to New Jersey on the president's plane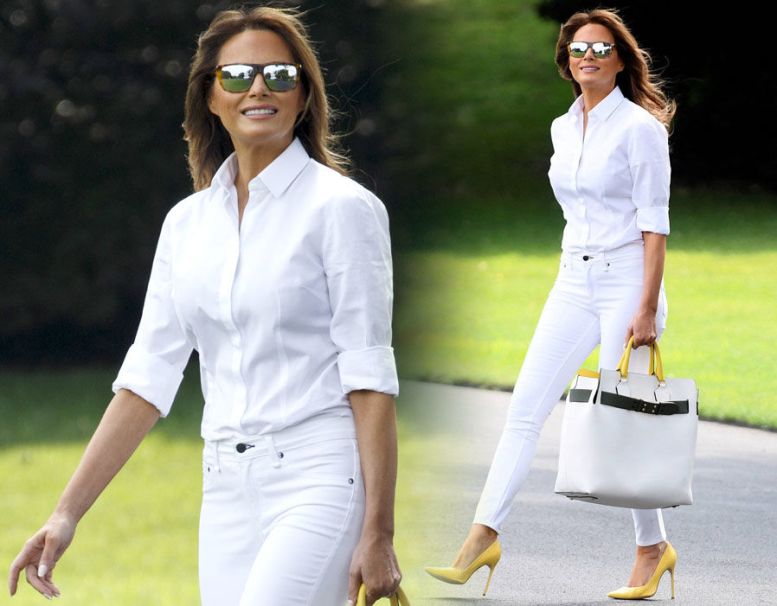 Her blowdried hair blew in a gentle breeze as the First Lady walked on the South Lawn of the White House before boarding Marine One in Washington.
This comes after CNN waded into the row over Donald Trump's reported "rage" at his wife.
On Wednesday it was reported that Donald Trump was angry at his wife Melania after she watched CNN on board the President's plane.
The New York Times reported that the First Lady's choice of channel caused a "bit of a stir", with Donald Trump "raging at his staff" for "violating a rule that the White House Entourage should begin each trip tuned into Fox."
The news outlet claimed a private email obtained by the paper revealed the event.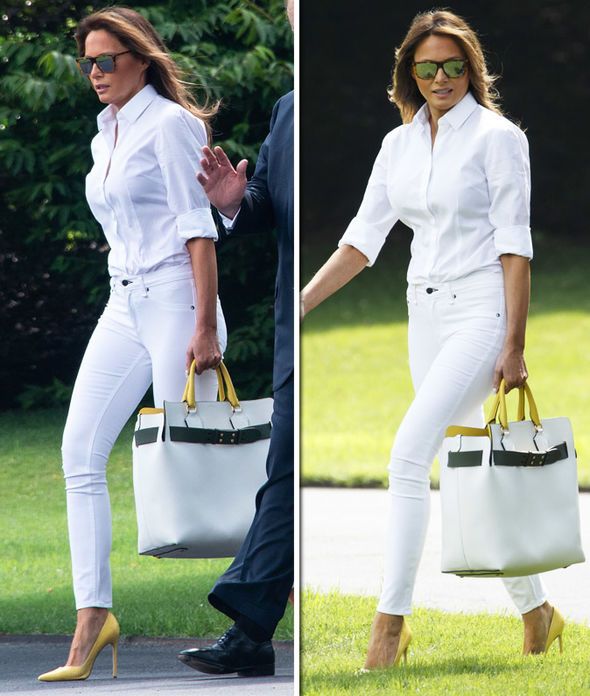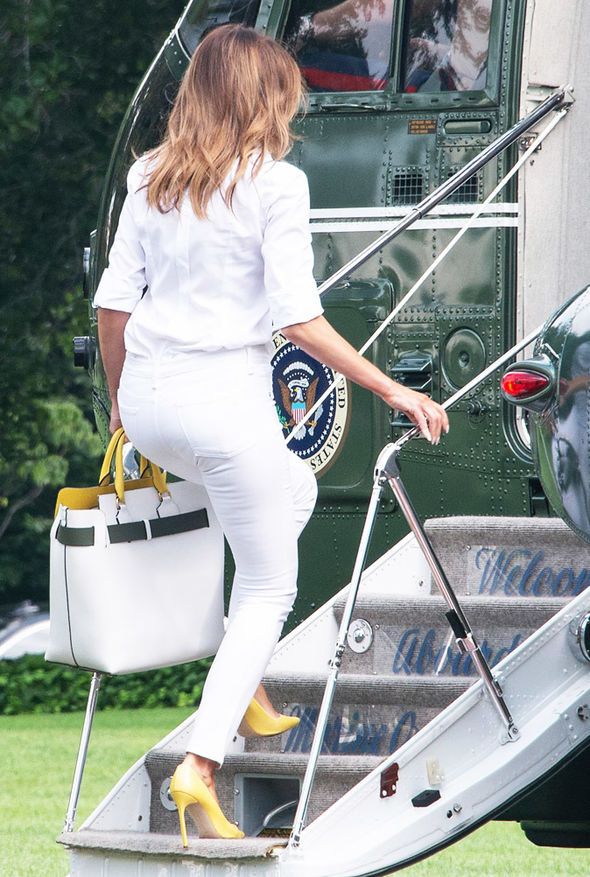 And CNN seemed to stoke the fires with a cheeky tweet aimed at the First Lady today.
However, Melania Trump hit back at these claims via her press secretary.
Stephanie Grisham said at an event yesterday after being asked about the reports: "Did you know that every 15 minutes a baby is born with NAS?
"Maybe you'd like to talk about the 160,000 kids who skip school every day for fear of being bullied, or that 280,000 students are physically attacked in schools every month.
"Seems kind of silly to worry about what channel she watches on TV (any channel she wants btw) or if she heard some recording on the news."
Source: https://www.express.co.uk