President Trump's daughter, Ivanka Trump, and her husband Jared Kushner — both White House advisers — led the United States delegation in Jerusalem, Israel on Monday for the opening of the new U.S. embassy.
Alongside the Prime Minister of Israel Benjamin Netanyahu and his wife, Sara Netanyahu, Ivanka announced the opening of the embassy which was revealed by the drop of a curtain.
"Today we dedicated the new US Embassy in Jerusalem – a longtime promise to the American and Israeli people," Ivanka wrote on her Instagram.
Ivanka wore a slim fit ticking-stripe jacket by Ralph Lauren, which retails for $1,890, paired with a rendition of this Ralph Lauren "Lilliana Cotton Tulle Dress" which retails for $2,490. Ivanka's shoes were also cream colored while her hair was kept straight and sleek.
In true Ivanka fashion, she donned a pair of pearl earrings to top off the ethereal ensemble. Ivanka has made pearl jewelry a staple in her White House wardrobe.
The night before the U.S. embassy opening in Jerusalem, Ivanka and Jared attended a ceremony with the Netanyahu. For the evening, Ivanka wore a black top and pencil skirt, as well as a black blazer. Her hair was swept into curls and pearl earrings, once again, peaked through.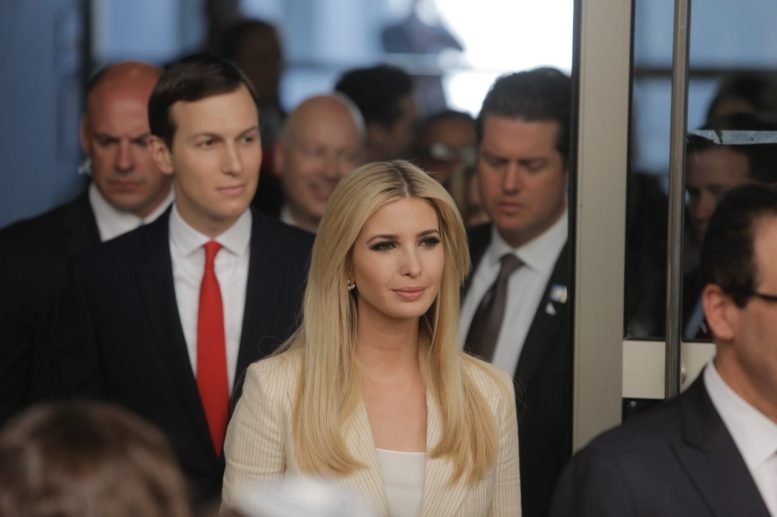 U.S. President's daughter Ivanka Trump and Senior White House Advisor Jared Kushner, arrive for the opening ceremony of the new U.S. embassy in Jerusalem, Monday, May 14, 2018. (AP Photo/Sebastian Scheiner)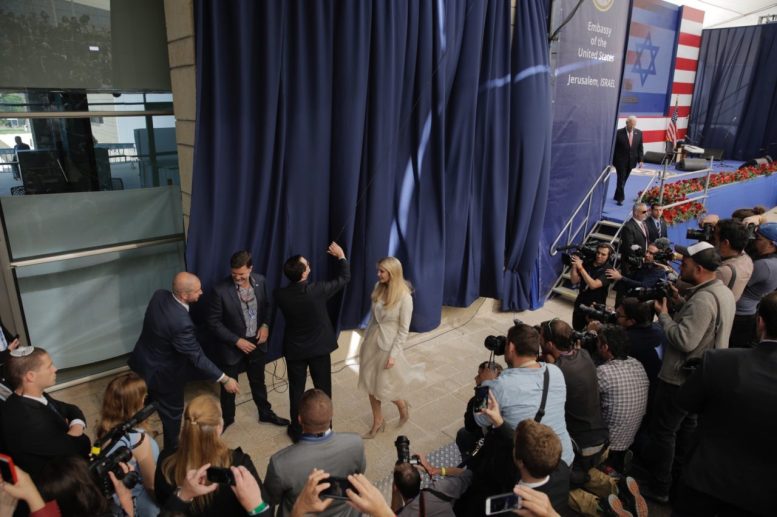 U.S. President Donald Trump's daughter Ivanka Trump, right, and U.S. Treasury Secretary Steve Mnuchin unveil an inauguration plaque during the opening ceremony of the new US embassy in Jerusalem, Monday, May 14, 2018. (AP Photo/Sebastian Scheiner)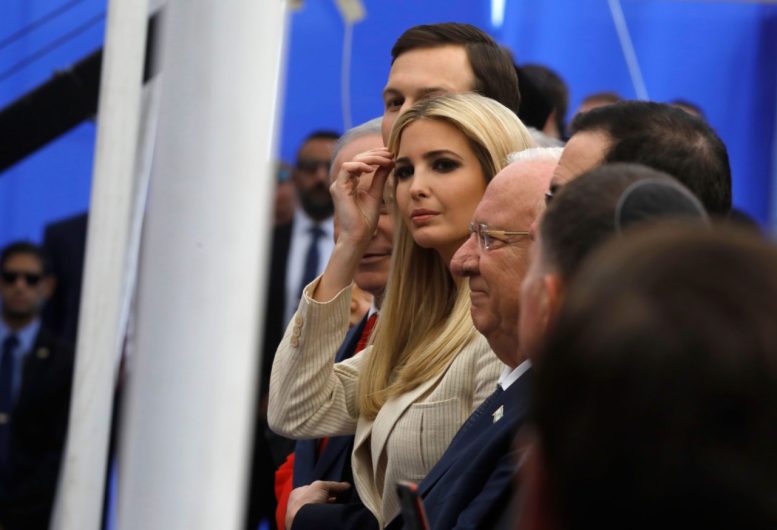 Senior White House Advisor Jared Kushner, US President's daughter Ivanka Trump and Israel's President Reuven Rivlin attend the opening of the US embassy in Jerusalem on May 14, 2018. (MENAHEM KAHANA/AFP/Getty Images)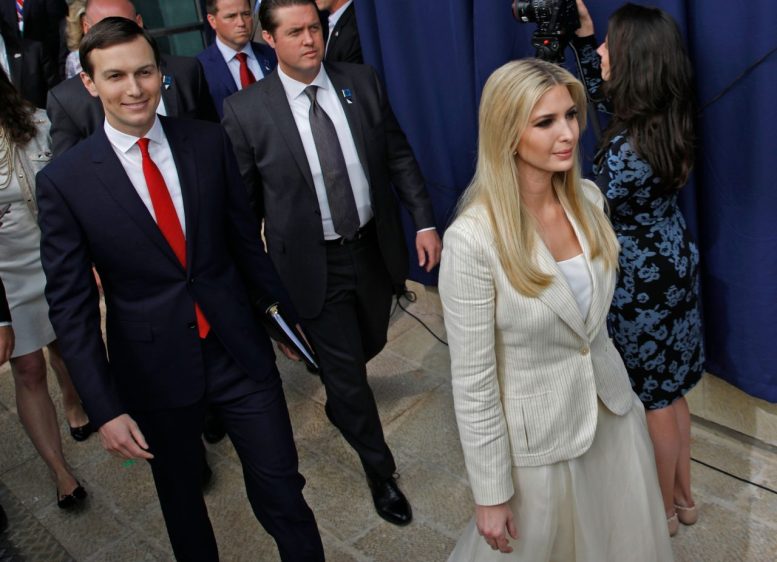 US President's daughter Ivanka Trump (R) and her husband Senior White House Advisor Jared Kushner (L) arrive for the controversial inauguration of the US embassy in Jerusalem on May 14, 2018. (MENAHEM KAHANA/AFP/Getty Images)
US President's daughter Ivanka Trump and her husband Senior White House Advisor Jared Kushner are seen during the opening of the US embassy in Jerusalem on May 14, 2018. (MENAHEM KAHANA/AFP/Getty Images)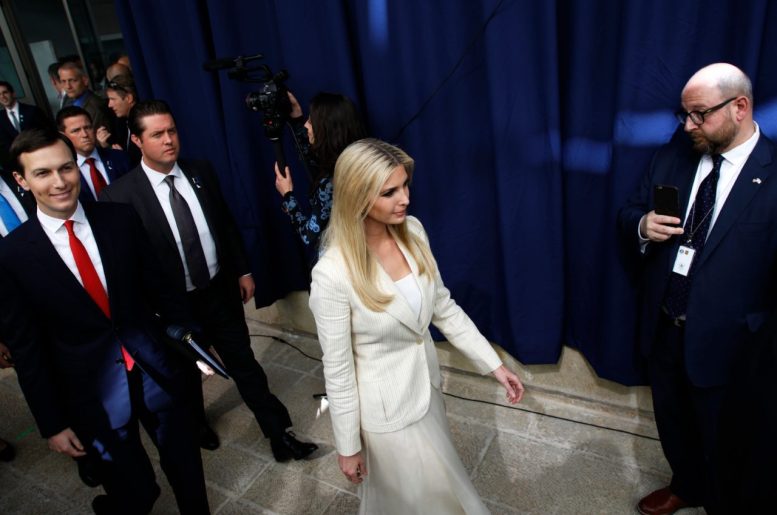 US President's daughter Ivanka Trump (C) and her husband Senior White House Advisor Jared Kushner (L) arrive for the controversial inauguration of the US embassy in Jerusalem on May 14, 2018. (MENAHEM KAHANA/AFP/Getty Images)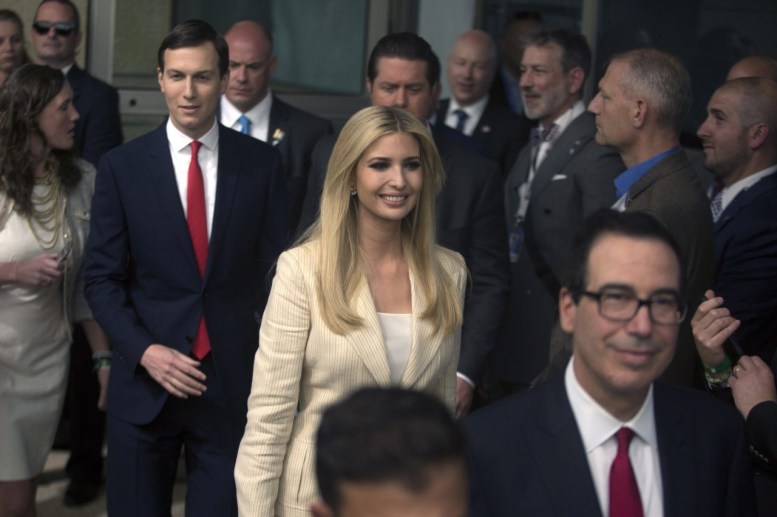 White House senior advisor Ivanka Trump (C) US Treasury Secretary Steven Mnuchin (R) and Senior White House Advisor Jared Kushner (L) arrive to the opening of the US embassy in Jerusalem on May 14, 2018 in Jerusalem, Israel. (Lior Mizrahi/Getty Images,)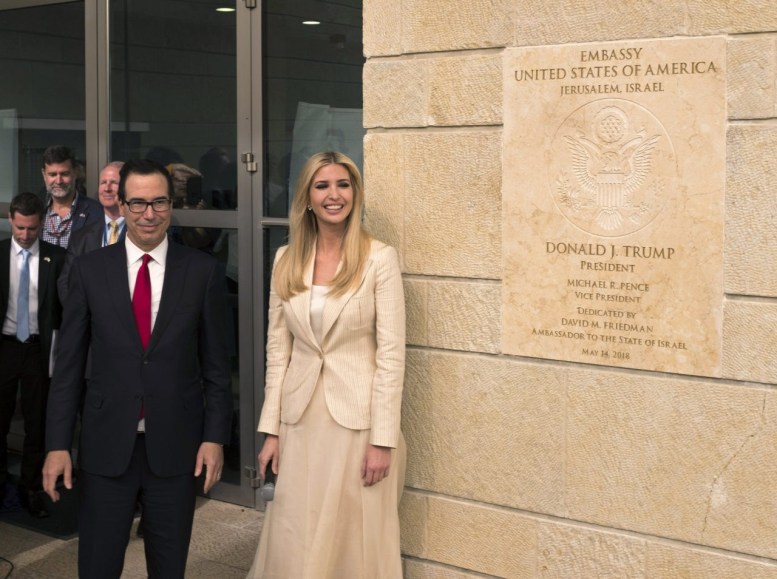 White House senior advisor Ivanka Trump and US Treasury Secretary Steven Mnuchin arrive to the opening of the US embassy in Jerusalem on May 14, 2018 in Jerusalem, Israel. (Lior Mizrahi/Getty Images,)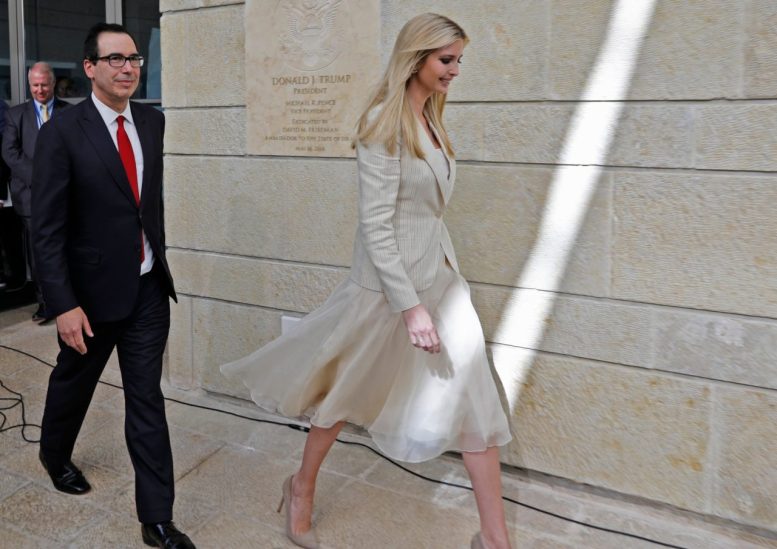 US Treasury Secretary Steve Mnuchin (L) and US President's daughter Ivanka Trump walk after unveiling an inauguration plaque during the opening of the US embassy in Jerusalem on May 14, 2018. (MENAHEM KAHANA/AFP/Getty Images)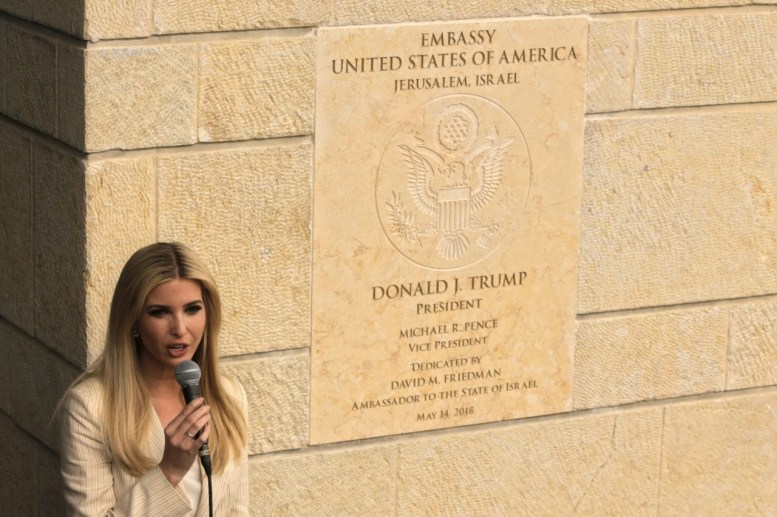 U.S President Donald Trump's daughter and advisor, Ivanka, speaks during the opening ceremony of the new US embassy in Jerusalem, Monday, May 14, 2018. (AP Photo/Sebastian Scheiner)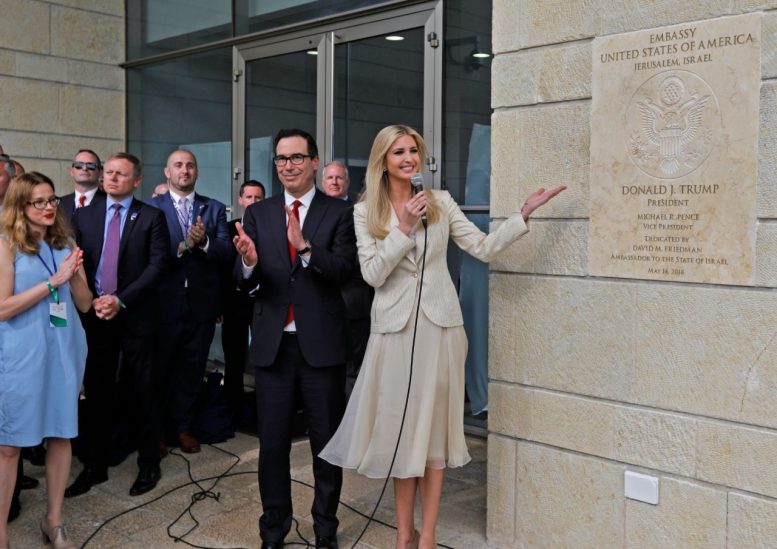 US Treasury Secretary Steve Mnuchin claps as US President's daughter Ivanka Trump unveils an inauguration plaque during the opening of the US embassy in Jerusalem on May 14, 2018. (MENAHEM KAHANA/AFP/Getty Images)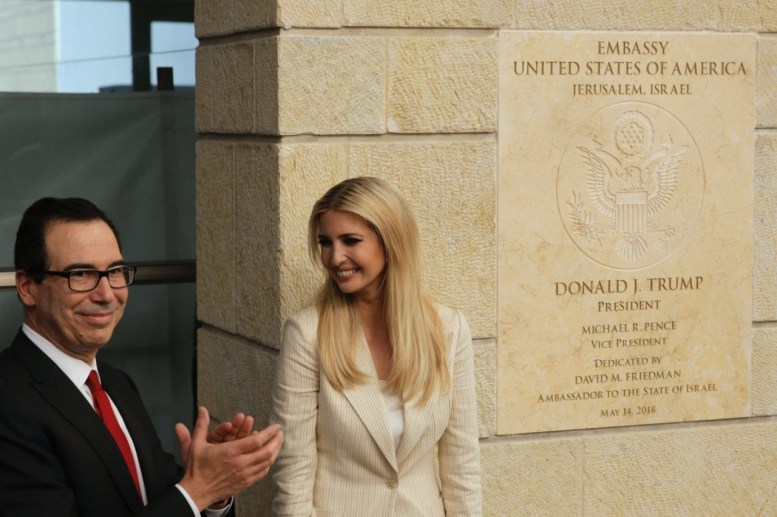 U.S. President Donald Trump's daughter Ivanka Trump, right, and U.S. Treasury Secretary Steve Mnuchin attend the opening ceremony of the new U.S. embassy in Jerusalem, Monday, May 14, 2018. (AP Photo/Sebastian Scheiner)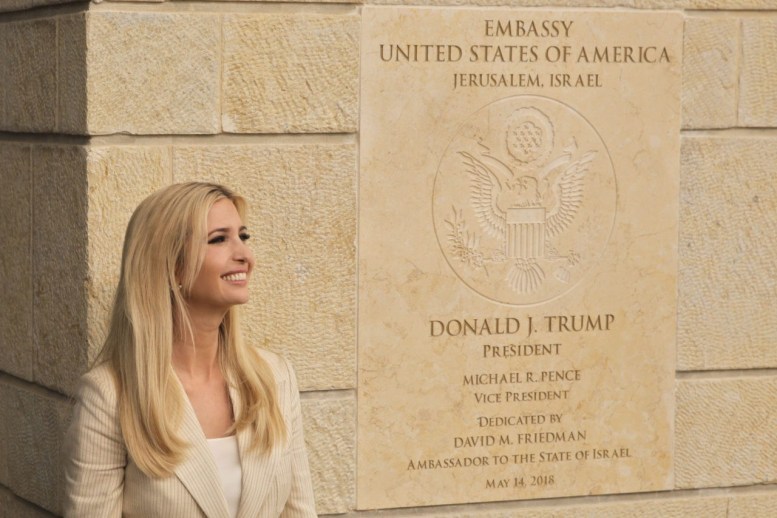 U.S. President Donald Trump's daughter Ivanka Trump attends the opening ceremony of the new U.S. Embassy in Jerusalem, Monday, May 14, 2018. (AP Photo/Sebastian Scheiner)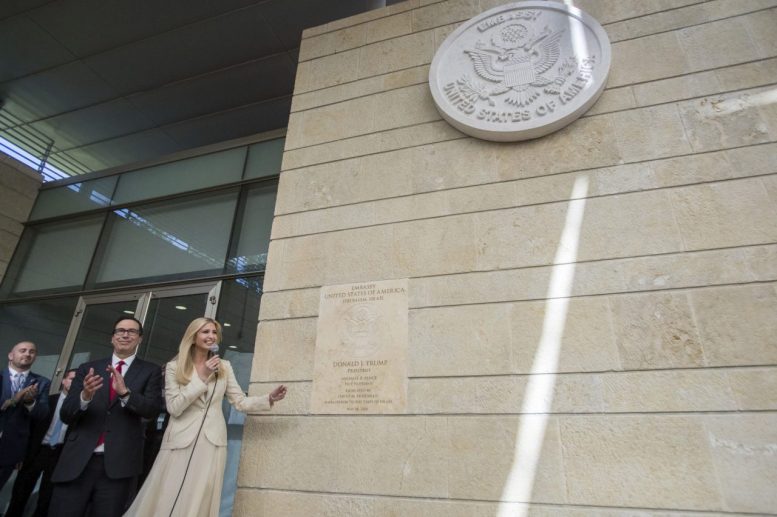 U.S. President Donald Trump's daughter Ivanka, right, and U.S. Treasury Secretary Steve Mnuchin during the opening ceremony of the new US embassy in Jerusalem, Monday, May 14, 2018. (Flash90 Photo/Yonatan Sindel via AP)
US President's daughter Ivanka Trump and her husband senior White House adviser Jared Kushner attend the official reception on the occasion of the opening of the US Embassy at the Ministry of Foreign Affairs in Jerusalem, on May 13, 2018. (GALI TIBBON/AFP/Getty Images)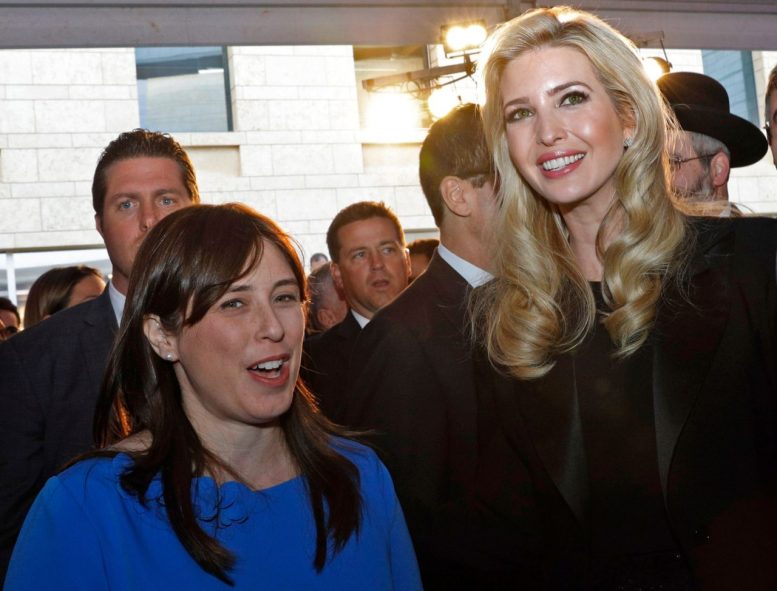 US President's daughter Ivanka Trump and Israeli Deputy Foreign Minister Tzipi Hotovely attend the official reception on the occasion of the opening of the US Embassy at the Ministry of Foreign Affairs in Jerusalem, on May 13, 2018. (GALI TIBBON/AFP/Getty Images)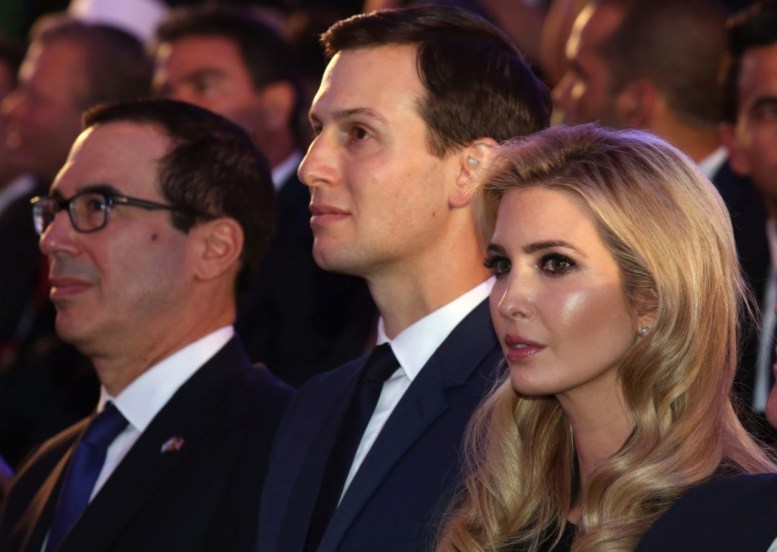 US President's daughter Ivanka Trump, her husband senior White House adviser Jared Kushner and US Treasury Secretary Steve Mnuchin attend the official reception on the occasion of the opening of the US Embassy at the Ministry of Foreign Affairs in Jerusalem, on May 13, 2018. (GALI TIBBON/AFP/Getty Images)
US President's daughter Ivanka Trump, her husband senior White House adviser Jared Kushner, US Treasury Secretary Steve Mnuchin, Israeli Prime Minister Benjamin Netanyahu and his wife Sarah, and Israeli Deputy Foreign Minister Tzipi Hotovely attend the official reception on the occasion of the opening of the US Embassy at ?the Ministry of Foreign Affairs in Jerusalem, on May