There she goes again! The fashion choices of our incredible first lady are SPOT ON! She arrived this morning to greet Vladimir Putin wearing her best color…YELLOW!
BTW-Melania Trump was sent in to break up a long meeting between the two leaders the last time they met.
First Lady Melania Trump looked radiant in a $3,700 sunshine-yellow Gucci jacket dress that was complete with a GUCCI butterfly buckle and bright yellow high heels. The butterfly was a prominent feature in Gucci's 2018 collection.
SHE WORE SLEEK LEATHER PANTS UPON HER ARRIVAL IN HELSINKI: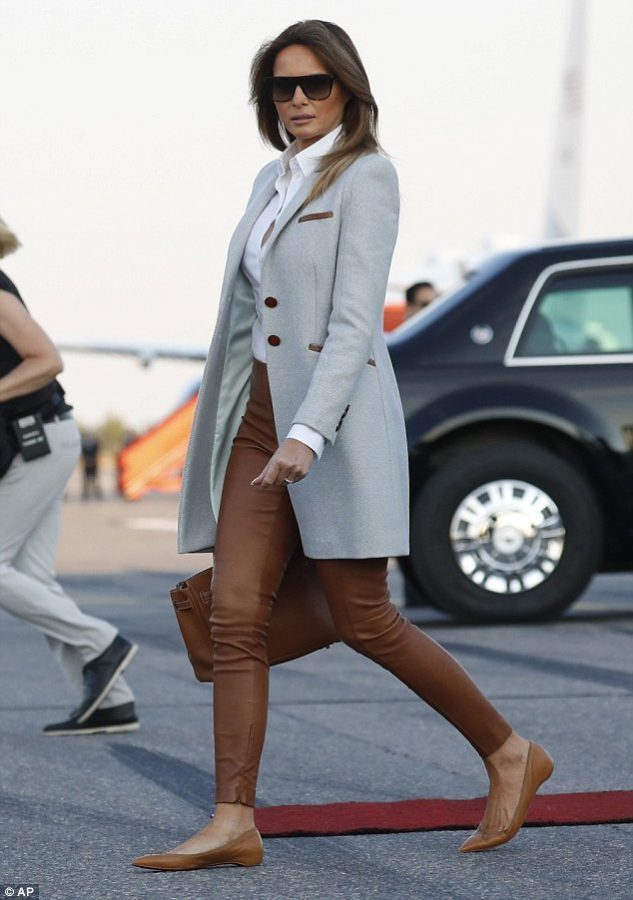 HER PREVIOUS FASHION CHOICES HAVE BEEN SPOT ON BUT THE YELLOW GRECIAN-STYLE GOWN SHE WORE FOR A GALA EVENT WAS STUNNING:
FIRST LADY MELANIA TRUMP LOOKED STUNNINGLY BEAUTIFUL TONIGHT IN A GRECIAN-STYLE BUTTERCUP YELLOW GOWN: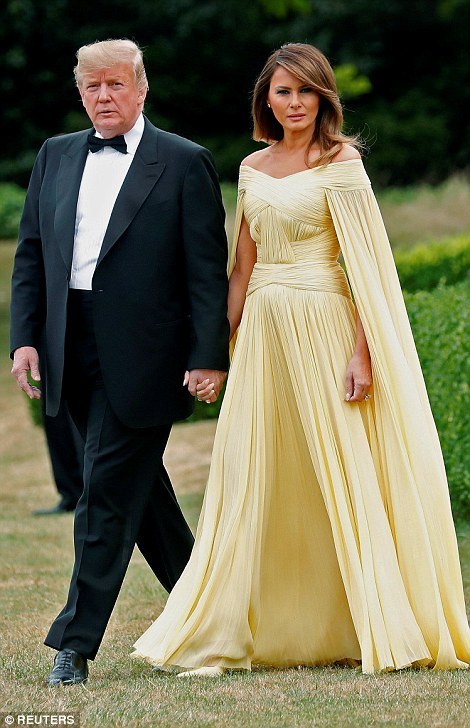 We feel like a broken record but our first lady just keeps bringing the hits for every occasion. This one is no exception! The welcome ceremony for the POTUS and FLOTUS:
She couldn't be more lovely and ethereal in the buttercup yellow Grecian style J. Mendel gown she wore to a black tie event this evening at Blenheim Palace. Hosted by Theresa May, the gala venue was described as a 'Magnificent English Country House' that was built in the early 18th century.
Melania stepping out of the limo and walking up to the 'Magnificent English Country House' for the black tie event:
The president and first lady joined Theresa May and her husband on the stairs of Blenheim Palace for a photo op. President Trump sweetly held Theresa May's hand as they slowly walked up the stairs.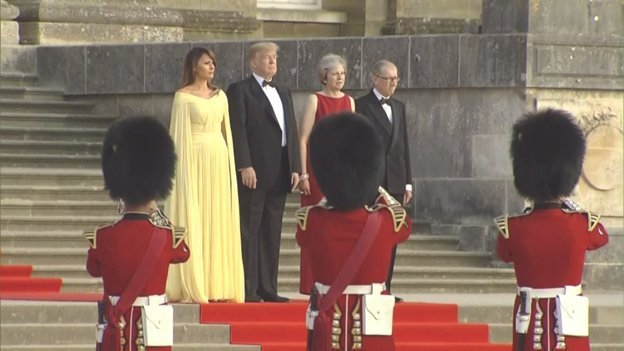 Cabinet members were also pictured watching on in formal dress as the president was serenaded by the British Army bands.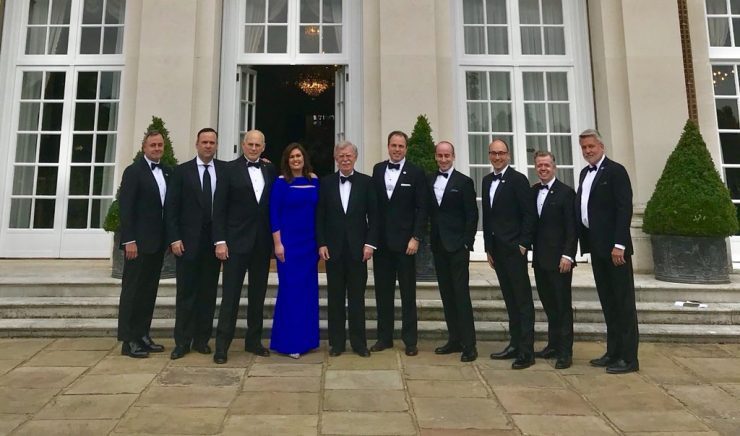 Earlier in the day, the first lady arrived in the Uk wearing a beautiful Roland Mouret dress:
WE'VE BEEN COVERING THE FIRST LADY'S INCREDIBLE WARDROBE – OUR PREVIOUS REPORT:
Is it any surprise that First Lady Melania Trump is knocking it out of the park with her stunning fashion choices and cheerful demeanor? Americans know what a chic woman she is even though the fashion elite refuses to acknowledge her incredible sense of style. Hello Vogue! Hello Harper's Bazaar!
Even though the liberal-leaning fashion magazines ignore her, Americans know she's got great taste and a flare for fashion. If they were smart, they'd be all over her like they were when Michelle Obama was first lady. You couldn't pass a magazine stand without seeing several covers with Michelle on them. Readership would skyrocket if Melania was on the cover of one of these magazines but it really isn't about promoting fashion then, is it? It's gotten political…Vogue Editor in Chief Anna Wintour even hosted a fundraiser for Hillary Clinton during the 2016 campaign. It's their loss! Shame on them!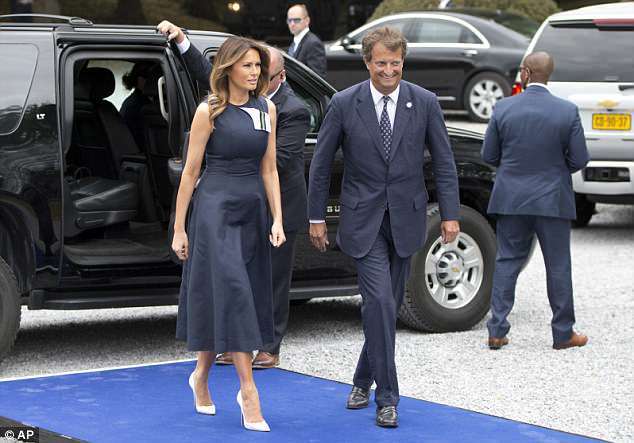 The first lady was seen wearing a fit-and-flair Calvin Klein navy dress with detail at the neck.  She was seen chatting and laughing it up with the French First Lady. Both ladies looked very chic: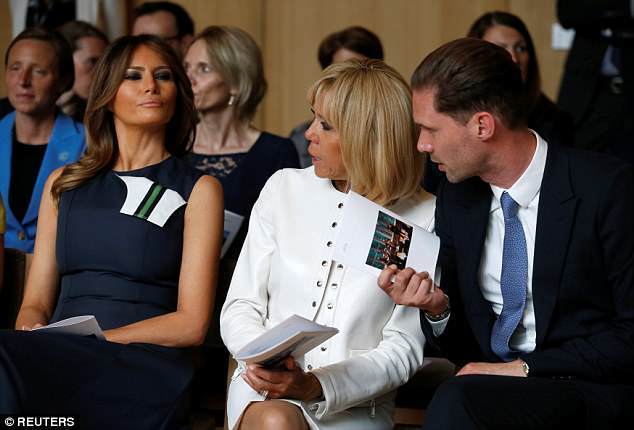 The incredible Elie Saab fit-and-flare dress she wore to the cocktail party during a NATO summit event is stunning.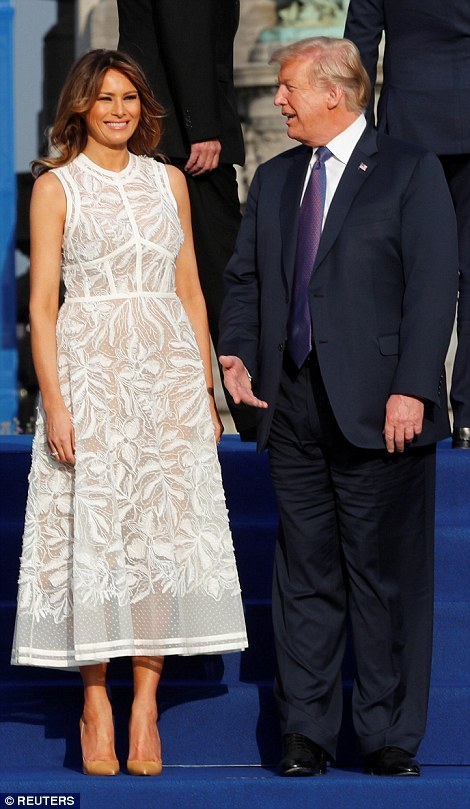 The tulle detail and embroidery is what makes this  cocktail dress a budget buster at a cost of over $7K! At that price, the dress is almost sold out on the Neiman Marcus website: