Rosie O'Donnell reignited her long-running feud with Donald Trump on Twitter over the weekend, posting a series of tweets, many of which were written in all caps, lashing out at him and calling for "resistance" to the president-elect.
She went on to call him, "mentally unstable," and warning, "less than three weeks to stop him, America," along with a link to a CNN story in which the author of a decades-old biography critical of Trump claimed the president-elect had him kicked off of his golf course  .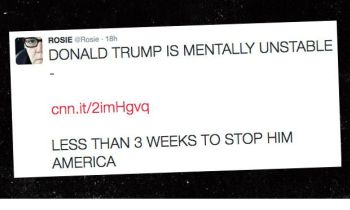 She also posted "DT is mentally ill" along with a Buzzfeed post on a photo series showing Trump's quotes about women written on models' bodies.
And she accompanied a link to an MSNBC column about Trump taking "credit for others' work," like bringing back jobs, with the assertion, "Trump is a criminal."
She responded to another Twitter user who wondered, "how is he allowed to take the office," by saying that time would be "the moment democracy dies" and told two other Twitter users, "He is the cheapest billionaire ever. He is a fake and a fraud. He earned nothing. Daddy's money not his."
She retweeted a number of other users who criticized the president-elect, including one with a gif of Trump as Vladimir Putin's puppet.
What do you think about Rosie? Please share and comment below…
source: http://www.billboard.com