Here's proof that the left will find fault with anything coming from the current inhabitants of the White House.
It all started when First Lady Melania Trump and her team decided on 45 ruby red Christmas trees to decorate the White House.
Volunteers from around the country assembled the trees over a three day period. They even taped their fingers in order to painstakingly transform the large styrofoam trees into beautiful cranberry trees.
Only a few hundred people are picked out of the thousands who apply to decorate the White House each year. This was a dream job for Vickie Wenstrup. This is why it's especially "horrible" that the left is bashing the hard work of the volunteers who spent days creating the magical decorations:
Amelia Florist Vickie Wenstrup was caught off-guard by the "horrible" social media reaction to the red berry Christmas trees that she and a team of other volunteers labored over for three days:
"I don't know who first said it. Or why. The first thing I saw (on Google) was 'Melania Trump covers the White House in blood for Christmas.'"
USA Today reports:
Wenstrup, a florist for 41 years, owns Amelia Florist and Gifts, about 16 miles southeast Cincinnati. Each year, she faithfully watches HGTV's special about Christmas at the White House.
More than once, Wenstrup had mentioned to her husband of 38 years, Bruce, that she would love to help decorate the White House for Christmas.
"I guess he took it upon himself to make that happen," she said.
In January, Bruce Wenstrup requested letters of recommendations from clients and assembled a portfolio. He filled several binders with favorable letters and other materials promoting his wife as an ideal volunteer. He sent copies to the first lady, her chief of staff, and the head floral designer.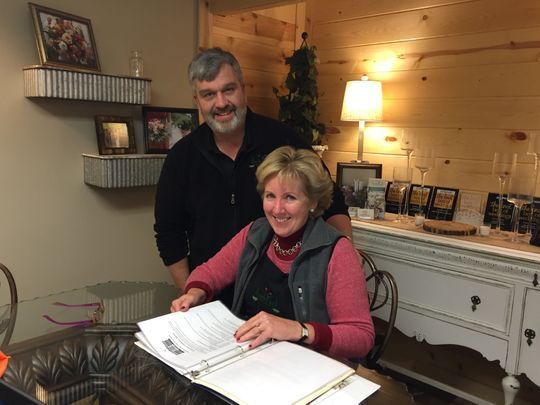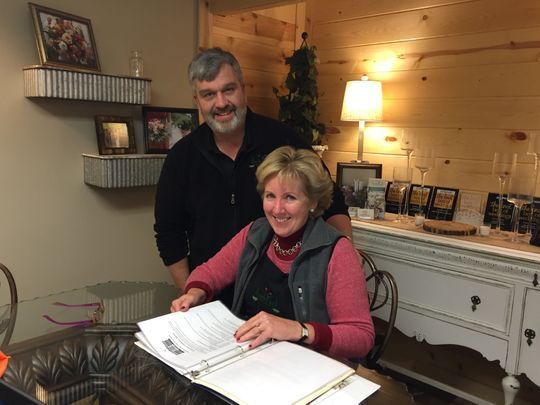 In October, Bruce Wenstrup learned that his wife had been selected. He surprised her with the news on Oct. 27 over a family dinner. Vickie Wenstrup cried.
"How do you repay somebody who gives you stuff like this. It's a priceless gift," Wenstrup said of her husband.
This was a dream job for volunteers like Vickie. It's too bad the classless critics are so selfish and can't see that their fellow Americans proudly worked to create the vision for the 2018 White House Christmas theme of "American Treasures".
Melania Trump made an appearance at Liberty University today looking lovely in a grey pantsuit.
Former Fox News host Eric Bolling was interviewing the first lady (see video below) when the topic turned to the media trashing the White House Christmas decorations that were unveiled on Monday (see video below).
Yes, apparently, there's not enough news out there so the media immediately began trashing the decorations with ugly comments and memes.
This is exactly what the media did last year when the first lady had white trees on display. This year, it's the red trees that triggered the media who called the trees "bloody". They said the white trees last year were like a scene from the horror movie "The Shining" and did the same thing this year with the red trees!  They also compared the trees to the "Handmaid's Tale":
Melania's 2018 White House holiday decor includes blood-red trees and a 'Be Best' pencil wreath https://t.co/EHszB80ki5 pic.twitter.com/evzrLo6jru

— Curated Stories (@TechCurated) November 26, 2018
The trees last year were white and this year are red (see photo below). Go figure! We're guessing they'd complain even if they were green!
Melania Trump claps back at media for Red Christmas Tree criticism:

"We are in the 21st century and everybody has a different taste. I think they look fantastic. I hope you will call come over to visit. In real life they look even more beautiful."https://t.co/gQP6EQsqdS pic.twitter.com/fAzDhFGzGm

— Benny (@bennyjohnson) November 28, 2018
The trees this year are made of red berries and look fabulous but there is no pleasing the media.
The first lady had this to say back to her critics:
"I THINK THEY LOOK FANTASTIC."
"We are in the 21st century and everybody has a different taste. I think they look fantastic."
Melania Trump then graciously invited the audience to the White House to see the decorations:
"I hope you will call come over to visit. In real life, they look even more beautiful. You are all welcome to visit the White House, the people's house."
We love our beautiful FLOTUS!
SOURCE:https://100percentfedup.com