MELANIA TRUMP is in Belgium with her husband Donald Trump. The couple are visiting Europe for the NATO Summit, where Melania stepped out in a structured navy blue dress.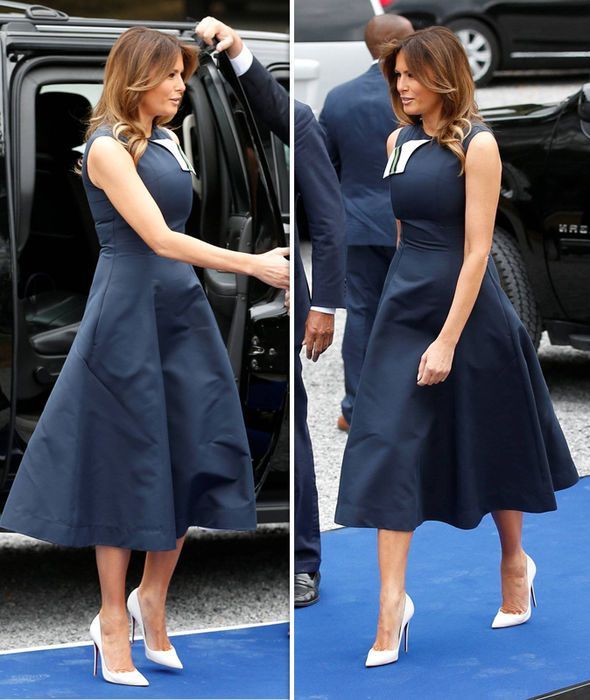 She showed no signs of jet lag this afternoon as she arrived at a chapel in Belgium.
The First Lady landed in the country last night, after a long flight from the US.
Melania and Donald Trump are in Belgium for the NATO Summit, a political meeting for NATO country's heads of state.
Arriving at the Queen Elisabeth Music Chapel in Waterloo, Belgium, Melania looked radiant and ready to go in a stunning navy blue dress.
Part of activities planned for spouses of NATO leaders, Melania toured the centre and attended a piano and violin concert.
Melania's dress was tight-fitted and structured, falling just below her knees.
By US designer Calvin Klein, it was nipped in at the waist showing off her tiny frame.
The simple, yet stylish ensemble featured a piece of white and green detail on the lapel.
The skirt of the dress had lots of material, adding a whimsical element to the dress as it swayed while she walked.
Matching the flash of white material, she elongated her tanned legs with a pair of white pointed-toe stiletto heels.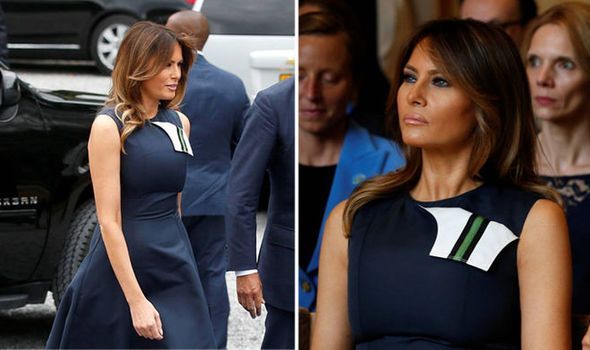 The stunning summery shoes were by Christian Louboutin and featured the trademark red soles.
She wore her brunette caramel locks loose and down, with curls framing her face.
In classic Melania fashion, her makeup was made up of neutral and brown tones, with a smokey eye and pink lip.
Melania arrived at the music academy without her husband President Donald Trump, who was otherwise engaged.
She was guided into the event by NATO personnel, but quickly took her seat beside fellow First Lady, Brigitte Macron.